Blessings Week 2020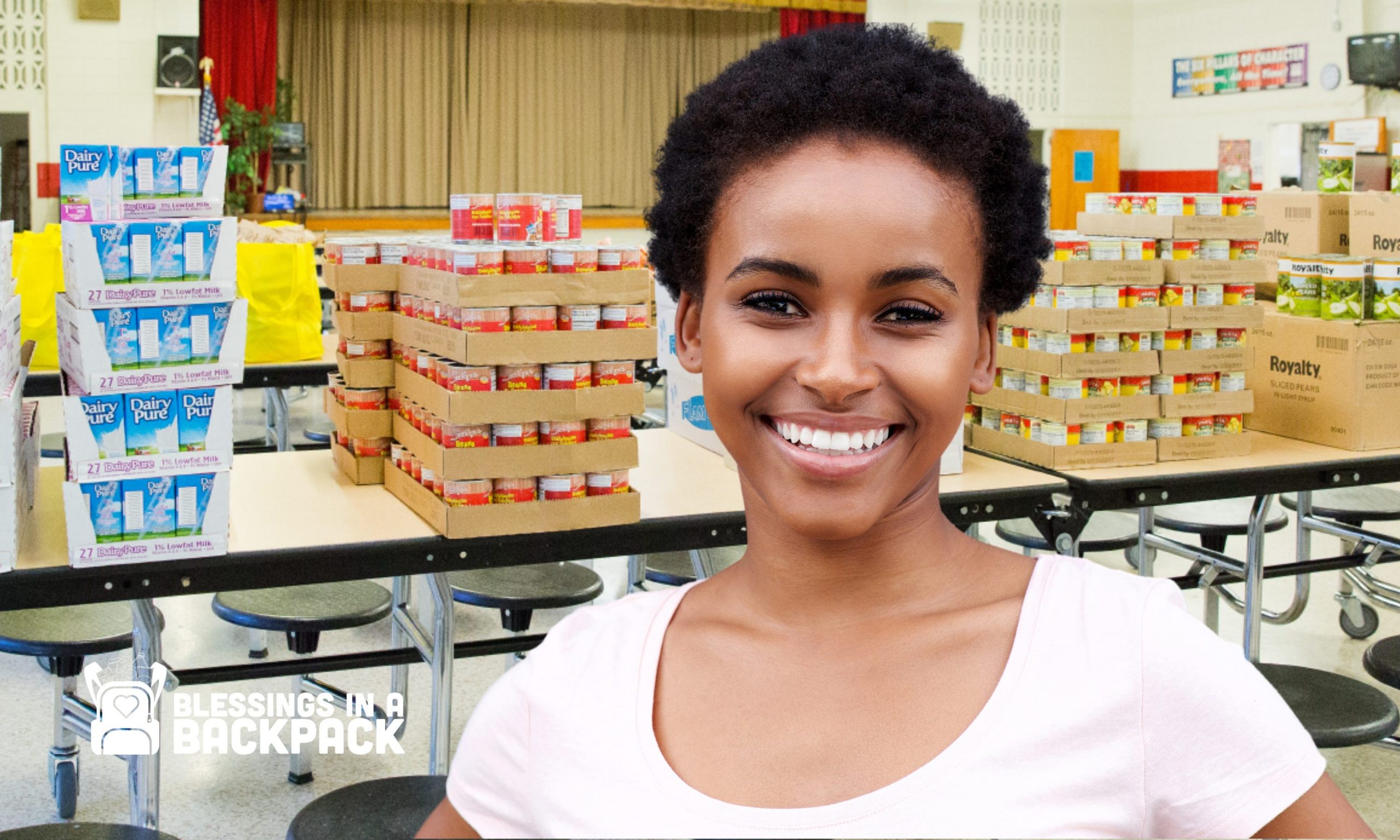 Save the Date: National Blessings in a Backpack Week is Sept. 14-18, 2020!
Usually, this week consists of volunteer-driven events so anyone can get involved, including local mayors on National Blessings in a Backpack Day (the third Thursday of Sept.). However, COVID-19 has caused us to rethink the week. How can we continue to highlight the Blessings mission and get the community involved while maintaining social distance?
National Blessings in a Backpack Week is going virtual!
What is Blessings in a Backpack Day?
After recognizing the day in 2014, Phoenix Mayor Greg Stanton and Green Bay Mayor James Schmitt sponsored and passed a permanent resolution at the 2015 annual U.S. Conference of Mayors meeting declaring the third Thursday of September the annual celebration of "Blessings in a Backpack Day."
"Blessings in a Backpack is an important resource for children who may not receive nutritious meals [at home] during the weekend," said Mayor Schmitt. "Children who are well-fed thrive in school and their communities."
Since the resolution passed, more than 100 mayors across the country have participated in the Blessings in a Backpack Day and packed bags of weekend food for food-insecure kids in their communities.
In 2018, we began celebrating National Blessings in a Backpack Week, which included daily activities for volunteers, donors, and supporters to participate in and post about on social media.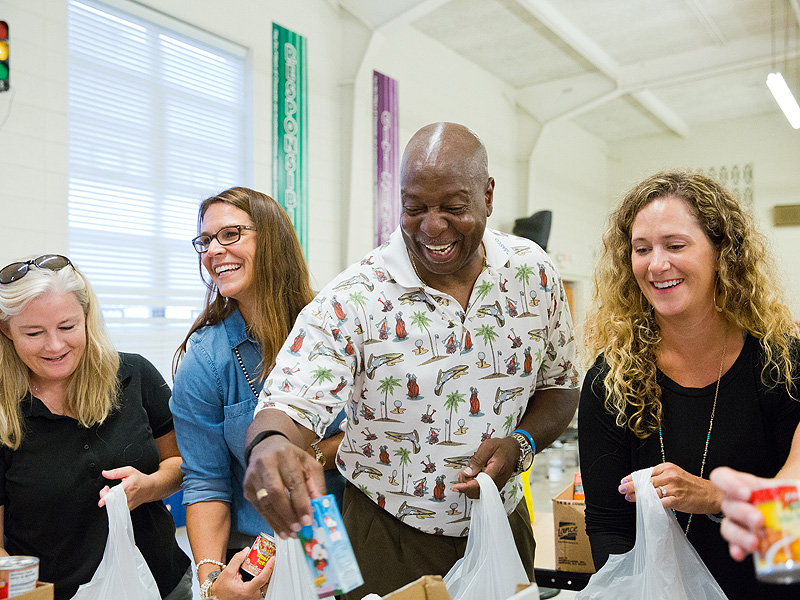 Mayor Cornell Harvey packed bags of weekend food for kids in Brunswick, Ga.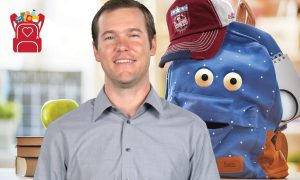 Blessings in a Backpack Zoom Backgrounds
Raise awareness at your next video conference call by downloading one of the images below and using it during your Zoom meeting.
Instructions: While in a Zoom meeting, tap More in the controls. Tap Virtual Background. Tap the background you would like to apply or tap + to upload a new image. The background will be automatically applied. Need help? Click here for Zoom support.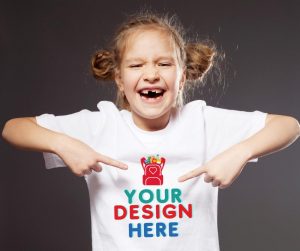 For the Kids! T-shirt Design Contest
Calling all artists 12 and under! Encourage kids to get involved Blessings Week by designing Blessings in a Backpack's next t-shirt. Our friends at Spartan Kids Foundation will donate $20 to Blessings in a Backpack for every entry submitted, up to $25,000. Click here to learn more.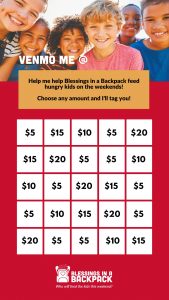 Bingo Fundraiser Using Venmo and Instagram Stories
Looking for a simple and fun Instagram or Facebook fundraiser during Blessings Week and beyond? Our Bingo Boards are the thing for you. Share the boards to your story, collect donations, and tag your donors in the story. Click here to learn more.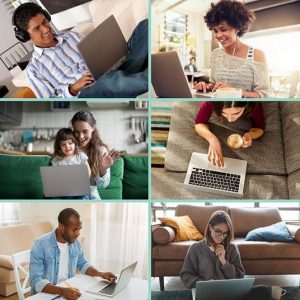 Host a Virtual Packing Event
This week, your company can work remotely as a team pack bags of food virtually! You'll determine the number of bags you want to pack (minimum 250 bags). Our staff will help you create an online donation portal through which employees can give to Blessings in a Backpack and see progress towards your goal. There's even the option to create teams! Click here to learn more.
A virtual packing event can be conducted within one week of notifying us!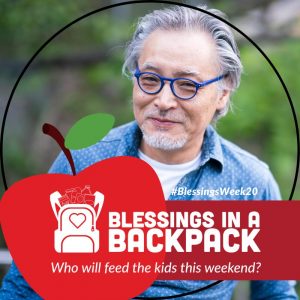 Update Your Facebook Frame

How do I find my frame?
Go to your profile on the Facebook app and tap "Edit" on your profile picture.
Then tap "Add Frame."
In the search box, type "Blessings in a Backpack."
Select the frame named, "Blessings in a Backpack Week 2020."
Click "Save" in the top right-hand corner.
Note: If you'd like to make the frame temporary for the week of Sept. 14-18 ONLY, click "Make Temporary." Facebook gives you the option of one hour, one day, one week, and custom. You'll do this step between steps 4 and 5 above.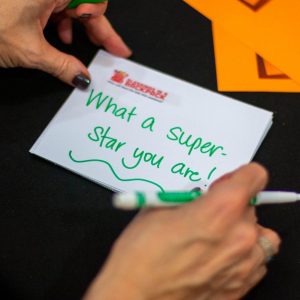 Wisdom Wednesday
Create inspirational note cards for the kids who take home Blessings in a Backpack. Download a printable note card template or use the paper you have at home. Donate the cards to your local Blessings program/chapter.
Post a picture of your note card on social media. Tag @blessingsinabackpack and use the hashtags #WisdomWednesday and #BlessingsWeek20.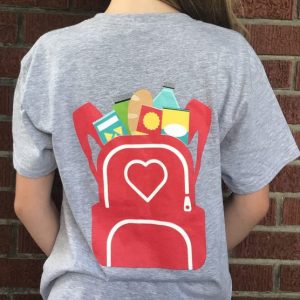 Wear Your Blessings Swag

Wear Blessings gear if you have it. If not, check out our online store and shop t-shirts (for kids and adults), lapel pins, and NEW TO THE STORE, face masks! Click here to check it out, and use promo code BlessingsWeek20 at checkout for 20% off your purchase*.
Please place your order by Sept. 9, 2020, so they can ship on Sept. 10. Note: We cannot guarantee delivery in time for Blessings Week. Face Masks will be shipped the week of Sept. 14.
*Promo code expires 9/30/20 and excludes Face Masks.

Other Ways to Get Involved

Pledge your birthday to Blessings in a Backpack.
Start a Facebook fundraiser to feed the kids in your community on the weekends!
Tell a friend about us. Have them tell a friend.
Share pictures of you and your volunteers distributing food on social media. Tag your volunteers and @blessingsinabackpack. Use #BlessingsWeek20.