Blessings in a Backpack Partners with Empowerment Club
Volunteer event provides students with food on weekends
Story by Audrey Gorey via dngomega.org
Blessings in a Backpack is a non-profit, national organization that provides school-aged students with food on the weekends. The Chicago chapter of Blessings in a Backpack collaborated with DGN Empowerment club Oct. 21 for a packing event that supplied kids in the community meal kits that will last three weeks.
"Our mission is to feed kids on the weekends who would normally not get food. People think it's a problem in the inner-city or the South Side of Chicago, but it's also right here in Downers Grove," Mike Noel said. "This organization targets to help feed kids on the weekends who usually get their lunches supplied to them by their school. A lot of times, their only meal of the day comes from their school lunch ticket."
Mike Noel has been involved with Blessings in a Backpack for the last decade, and has served as a co-chair of the advisory board in the Chicagoland area the past five years.
"When I was younger I was a latch-key kid. A latch key kid is one that basically goes to school on their own, comes home on their own to an empty house because parents are working, lets themselves in, makes their own food. I was lucky though that I had a parent who kept food in the house, but I couldn't imagine if that wasn't the case," Noel said.
Noel's daughter, senior Alexa Noel, planned a do-it-yourself 5k run Nov. 2023; the proceeds will go back to Blessings in a Backpack.
"My dad started getting involved a few years back, so naturally so did I," Alexa Noel said. "I've done a few events such as the DIY 5k, which we're doing again this year. The proceeds from the 5k last year went to this event, which allows us to pack 500 bags of food that will go straight to our Downers Grove community."
Social studies teacher Karen Spahr-Thomas has been the sponsor of Empowerment Club since it was founded by students in 2018. The club's mission is to create an accessible way to take initiative for change and action.
"This is the first time we've gotten involved with Blessings in a Backpack, and it's all due to senior Alexa Noel, who thought of bringing this to Empowerment Club," Spahr-Thomas said. "This instance is the perfect example showing that there is an outlet in our school for students to come up with great ideas to do impactful things."
With over 30 volunteers, 500 bags of food were packed in just one hour.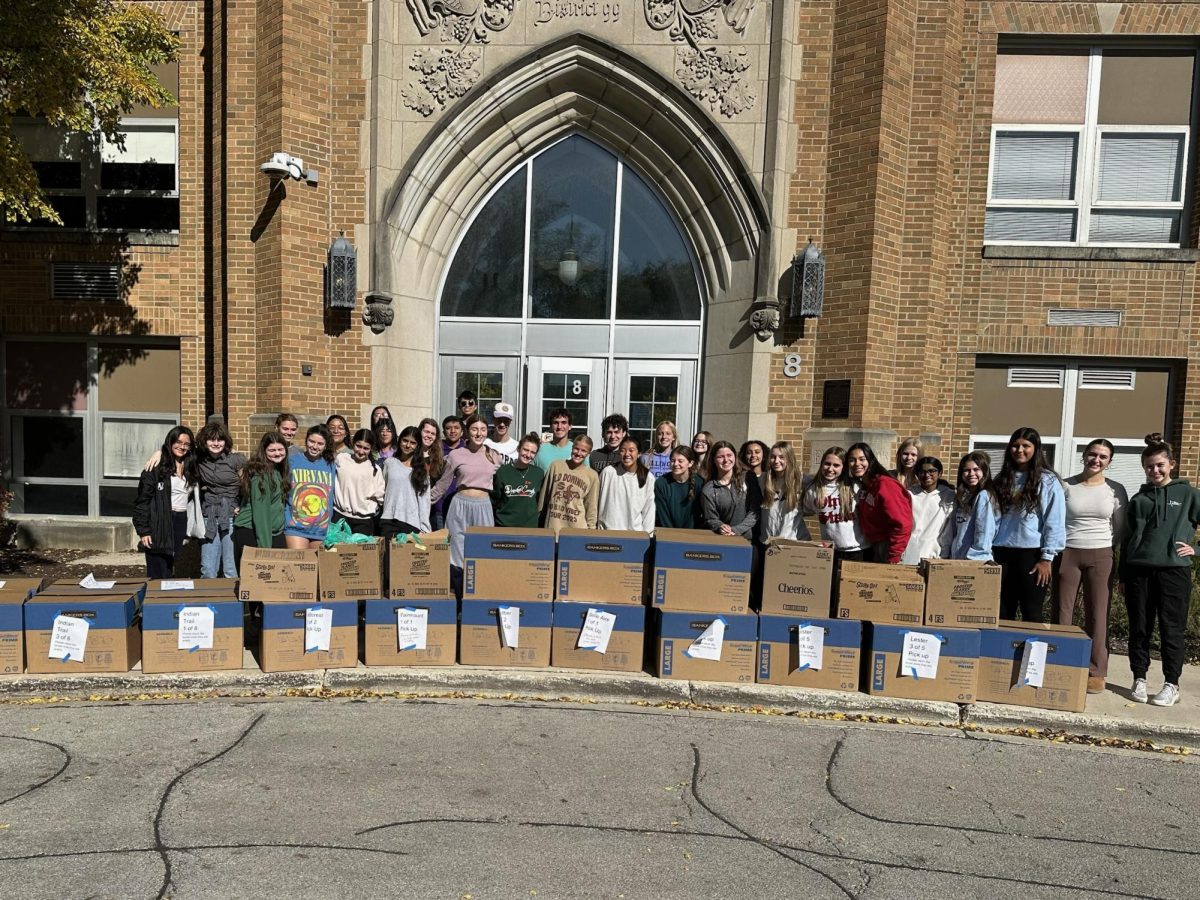 "I know what it's like to grow up and not have the best of everything, and to kind of feel like that kid. To be able to give back and let them have a piece of normalcy, makes me happy, and hopefully makes them happy," volunteer Lysney Ruck said.
Volunteer Kim Venzon found out about Blessings in a Backpack through the Downers Grove Junior Women's Club. In her seventh year of involvement with the organization, Venzon serves as the lead program coordinator for Blessings in a Backpack for District 58.
"We do have a homeless population in Downers Grove, which a lot of people don't know about. Those aren't the only kids who get this food, but they heavily depend on this food every weekend, and it's a big deal if they don't get it," Venzon said. "Having a supply like this will make a huge difference for both the volunteers of Blessings in a Backpack, because it gives them a break from ordering the food, and also for the kids to get this variety, they get a little bit different menu."
The proceeds donated from the upcoming 5k will go to a similar future Blessings in a backpack packing event.
"The DIY 5k is the world's greatest 5k. I'll tell you why: it's because you don't have to train, you can show up at Mike's house and he'll feed you breakfast, and you get a free T Shirt. You can walk it, you can run it, you can skip, ride your bike, it's a do-it-yourself 5k," Dan Summins, managing director, Blessings in a Backpack Chicago Chapter, said.
On a typical Friday during the school year, blessings in a backpack nationally feeds 95,000 kids across the country. Here in the Chicago area, the organization feeds about 5400 kids every Friday of the school year.
"If you go to the grocery store, groceries have gotten really expensive, gasoline has gotten really expensive. A lot of parents of the kids that we're supporting are working two or three jobs. They're physically not home to make the kids lunch," Summins said. Most of the kids we're feeding are elementary school kids, so they don't have the access that you do to a car, or to go out and get a job to make their own money, so they are really reliant on blessings in a backpack to provide for them."